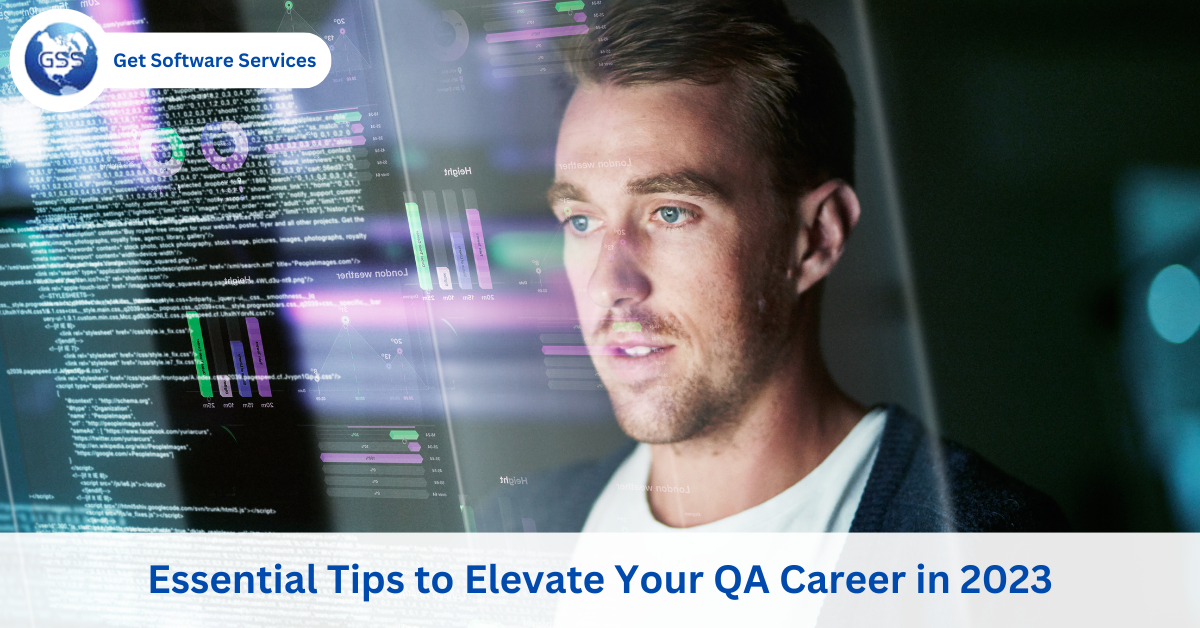 Essential Tips to Elevate Your QA Career in 2023
Posted by

Categories

QA

Date

July 18, 2023
In the dynamic world of software development, quality assurance (QA) plays a vital role in ensuring that software products meet high standards of quality, functionality, and user satisfaction. As the field of QA continues to evolve, it is essential for professionals to stay ahead of the curve and elevate their careers. Get Software Service (GSS) recognizes the importance of continuous growth and offers valuable tips to help QA professionals thrive in their careers in 2023 and beyond.
Embrace Continuous Learning and Upskilling
The Importance of Continuous Learning:
It enables professionals to stay updated with the latest industry trends, technological advancements, and best practices.
Upskilling for Career Growth:
Upskilling refers to the process of acquiring new or additional skills to enhance one's professional capabilities. It involves acquiring knowledge and proficiency in new technologies, tools, or methodologies.
Benefits of Embracing Continuous Learning and Upskilling:
a. Professional Growth: Continuous learning and upskilling provide professionals with opportunities to expand their knowledge and expertise.
b. Enhanced Problem-Solving: Continuous learning and upskilling broaden professionals' perspectives and equip them with diverse problem-solving skills.
GSS's Role in Continuous Learning and Upskilling:
GSS is committed to supporting professionals in their continuous learning and upskilling journeys. It offers a wide range of training programs, courses, and certifications designed to enhance knowledge and skills in various areas of technology.
a. Comprehensive Course Offerings: GSS offers a diverse range of courses covering areas such as quality assurance, automation testing, software development, data analytics, and more.
b. Practical Hands-on Experience: GSS recognizes the importance of practical experience in mastering new skills. The training programs incorporate hands-on exercises, real-world projects, and case studies to provide participants with valuable exposure.
c. Expert Instructors: GSS's instructors are seasoned professionals with extensive industry experience.
d. Flexibility and Convenience: GSS's training programs are designed to accommodate professionals' busy schedules.
e. Networking Opportunities: GSS provides a platform for professionals to connect and engage with a community of learners, industry experts, and like-minded individuals.
Cultivate Technical and Non-Technical Skills
In today's rapidly evolving professional landscape, having a diverse skill set is vital for career growth and success. This holds particularly true in the field of technology, where technical expertise alone is not enough to thrive.
Technical Skills:
Technical skills are fundamental in the technology industry and form the foundation of a successful career. By developing and refining your technical skills, you enhance your ability to contribute to projects, solve complex problems, and stay relevant in a rapidly changing industry.
Software Development Frameworks:
Acquiring knowledge of software development frameworks can significantly enhance your efficiency and productivity. GSS's training programs cover frameworks like Spring.NET, Django, Angular, and React.
Database Management:
Proficiency in database management is crucial for handling and analyzing large datasets. GSS offers training in database management systems such as MySQL, Oracle, MongoDB, and PostgreSQL.
Cloud Technologies:
Cloud computing has revolutionized the technology landscape, and expertise in cloud technologies is highly sought after. GSS provides training on cloud platforms like Amazon Web Services (AWS), Microsoft Azure, and Google Cloud.
Non-Technical Skills:
While technical skills are crucial, non-technical skills are equally important for career growth and success. GSS recognizes the significance of developing non-technical skills and offers training to help professionals cultivate these essential abilities.
a. Communication and Collaboration:
Strong communication and collaboration skills are paramount in today's interconnected work environment. GSS's training programs focus on enhancing verbal and written communication skills, active listening, and effective collaboration with cross-functional teams.
b. Problem-Solving and Critical Thinking:
Problem-solving and critical thinking skills are highly valued in the technology industry. GSS's training helps professionals develop analytical thinking, logical reasoning, and problem-solving techniques.
c. Adaptability and Continuous Learning:
In a rapidly changing industry, adaptability and a thirst for continuous learning are crucial. GSS emphasizes the importance of adaptability and offers resources and training to help professionals embrace change and stay ahead of the curve.
d. Leadership and Management:
Leadership and management skills are essential for career advancement and taking on leadership roles. GSS provides training to develop leadership abilities, including team management, project management, and decision-making.
Seek Diverse QA Experiences
In the dynamic field of Quality Assurance (QA), professionals are constantly seeking ways to enhance their skills, expand their knowledge, and achieve career growth. One of the most effective ways to achieve this is by seeking diverse QA experiences.
Embrace Different Domains and Industries:
One of the key ways to seek diverse QA experiences is by working in different domains and industries. QA professionals can broaden their horizons by venturing into sectors such as healthcare, finance, e-commerce, gaming, or telecommunications.
Engage in Manual and Automated Testing:
QA professionals should aim to gain experience in both manual and automated testing. Manual testing allows for a thorough understanding of the software, its functionalities, and the user experience.
Collaborate with Cross-functional Teams:
Collaboration with cross-functional teams is an essential aspect of diverse QA experiences. Engaging with developers, designers, product managers, and other stakeholders fosters a holistic understanding of the software development lifecycle.
Participate in Different Project Phases:
To seek diverse QA experiences, professionals should actively seek opportunities to be involved in different project phases. Participating in requirements gathering, design reviews, and user acceptance testing allows for a comprehensive understanding of the software development process.
Build a Professional Network
In today's competitive professional landscape, building a strong and diverse professional network is essential for career growth and success. A robust professional network opens doors to new opportunities, provides valuable insights, fosters collaborations, and offers support during various stages of your career.
The Importance of a Professional Network:
A professional network comprises individuals within your industry or field who can provide guidance, share knowledge, offer career advice, and create mutually beneficial relationships. Building a professional network is essential for expanding your reach, staying updated with industry trends, accessing job opportunities, and gaining insights into best practices.
Build Relationships within Your Organization:
Building relationships within your organization is equally important. Cultivate connections with colleagues from different departments, senior management, and cross-functional teams.
Network Online through Webinars and Virtual Events:
With the rise of remote work and virtual events, networking opportunities have expanded online. Participate in webinars, virtual conferences, and online workshops to connect with industry professionals from around the world.
Leverage Alumni Networks:
Alumni associations often provide networking events, online platforms, and mentoring programs. Connect with alumni in your industry or profession, attend alumni events, and leverage the shared connection to build relationships and explore career opportunities.
Conclusion
In conclusion, Get Software Service (GSS) is a leading provider of training and resources to help QA professionals elevate their careers in 2023 and beyond. With a comprehensive range of courses, certifications, and networking opportunities, GSS is dedicated to supporting the growth and success of QA professionals in the dynamic field of software development.
GSS offers a wide range of training programs and certifications that cater to the diverse needs of QA professionals. From automation testing with tools like Selenium and Appium to Agile methodologies and DevOps practices, GSS ensures that professionals have access to the latest skills and knowledge required to thrive in the industry.