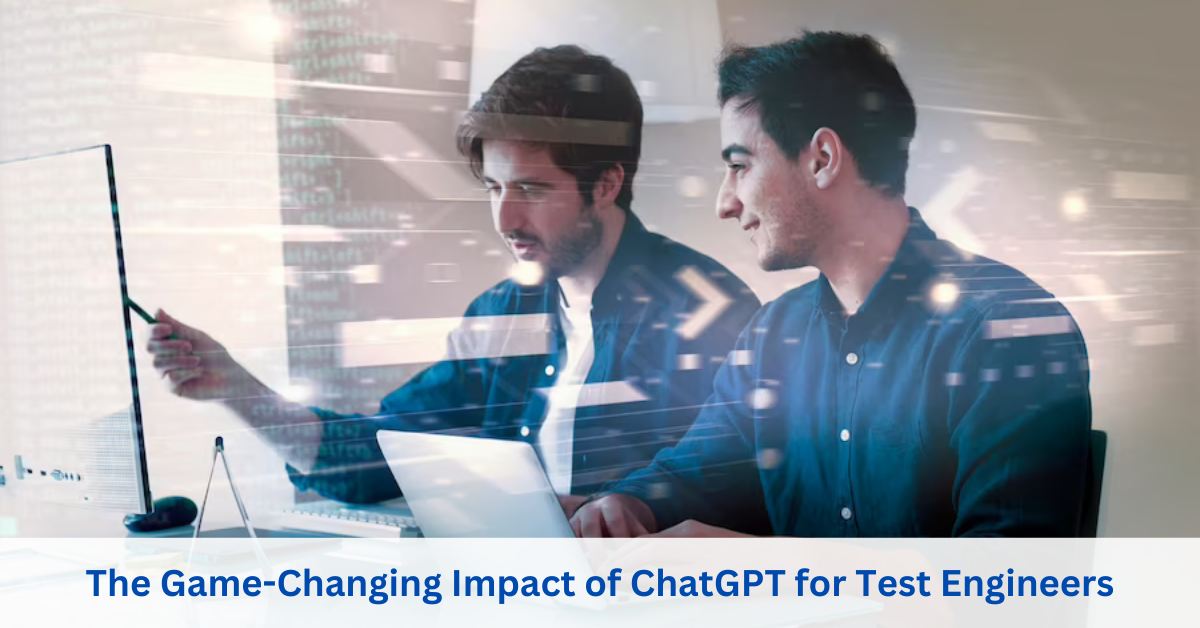 Elevating Test Efficiency: The Game-Changing Impact of ChatGPT for Test Engineers
Posted by

Categories

QA

Date

June 19, 2023
In today's competitive software industry delivering quality products to customers is a big challenge with so many dependencies of the application modules on each other. Test engineers find it hard to stamp the products as error-free with constant change requests from the client. Time is a big constraint for the testers to deliver the application to the end users within the assigned schedule. This is where an advanced tool called ChatGPT comes into the roleplay to ease the testing process for the testers. This is a robot-like tool that tests the user-friendliness and responsiveness of the application by interacting with users on machines to ensure maximum test coverage and reliability of the applications.
Test efficiency is very important for the success of any software product and covering multiple scenarios is essential to achieve the target. ChatGPT is an intuitive tool that promises comprehensive testing for reaching a higher return on investment.
Role of ChatGPT in Test Efficiency
The ChatGPT tool has a significant impact on the testing process by paving the way for quicker deliveries and enhanced productivity. Testers can customize the desired scenarios on this tool to save their testing efforts and time with the help of this high-end tool.
1. On-time Deliveries
ChatGPT is a pro-automated tool that can create a huge set of test data and test cases on the go. These test cases can be run on the tool and produce quick test reports that can speed up the test cycles and thereby the performance of the application.
2. Enhanced Productivity
Testers can hand over the manual run cases to ChatGPT and focus on other functionally weak modules of testing to improve the performance. They can create a test plan and work on scenarios to achieve maximum coverage that will in turn improve the quality of the applications.
3. Improved Efficiency
These automated tools can run the test cases in no time with automated test data creation and test case creation. This can reduce the dependency on manual testers by ensuring more test accuracy and the test team can be utilized for other projects that have ample time.
4. High quality
ChatGPT is a modern tool that not only reduces the testing team's efforts but also provides innovative suggestions for the improvement of the software. Also, the tool can identify bugs with a fast approach and fix them on the run with its automated mechanism. Automating critical tester tasks like test data creation, test case generation, and troubleshooting can help the software teams to plan their testing timeline accordingly. This in turn will ensure the application delivered to the client is of good quality with minimal errors.
Streamlining Test Case Creation and Execution
This approach is adapted to streamline test cases and execute them carefully to achieve targeted outputs. Although ChatGPT is an advanced software it doesn't have the capability to filter cases based on the priority of the testers. Hence it is recommended that QA professionals know its limitations and work accordingly.
1. Testers need to create a starting point from which they expect the ChatGPT tool to create test cases.
2. Create a set of test cases based on the best possible scenarios for the application.
3. Generate test documentation based on user input in multiple languages.
Looking Ahead: Future Possibilities and Advancements
Testing cannot be successful anymore without dependency on this power-packed and intuitive AI tool ChatGPT. The tool is capable of bringing tremendous growth in the software industry by easing the whole testing process. This advanced machine-oriented program makes life simple for people by communicating with users on the internet for online surveys. The response received is relatively quick with this interactive tool allowing many social platforms to adopt this tool for promoting their online business. A proactive virtual assistant that gives tough competition to other similar tools on the internet.
An effective UI-based tool that holds good for ticket reservation and management, booking appointments in prior, and integrating with social platforms. Many businesses can expand their business by multiplying the number of users for sales thereby optimizing customer service. Users can converse with human via ChatGPT that act as a good intermediator between both serving as an effective communication channel.
One important advancement of ChatGPT is the kickstart of transfer learning which allows the tool to learn from current conversations and apply them in upcoming fresh chats. Another key improvement is ChatGPT can apply the data in different conversations.
ChatGPT utilizes extensive learning methodology and natural language processing to create innovative communication with people. At present, the tool is helpful for online virtual agents, automated conversations, and customer service agents. One key advancement that is expected to invade the software market is the capability to create multiple virtual agents and assistants. With so many technological advancements evolving around, ChatGPT is expected to handle challenging scenarios with multiple agents who can handle back-to-back customer requests. The presence of multiple agents can make customer service fastidious as chatbots render quick responses when compared to manual intervention.
ChatGPT is expected to launch automated systems that can assist users in the best choice for them based on their previously selected options. This can boost the sales of a company by opening multiple channels for growth to satisfy the targeted audience. Another trending advancement would be the tool that would encourage the development of virtual apps that connect the users with the real world more. A productive platform that connects people with technology so beautifully in today's modern era. The tool can make a huge impact on the business with so many agents who keep connecting with the customers to hear their requests and work closely with them to achieve their goals.
ChatGPT's Impact on the Society
This Microsoft-oriented virtual tool caters to the medical and gaming industry requirements. ChatGPT's impact on the external world is incredible as it allows personalized services at their comfort. A good reputation can be earned among customers for online businesses which in turn paves the way for tremendous growth of the online company in social media. However, it is important to ensure that any personal information acquired from the clients must be kept confidential by businesses to keep their brand unaffected by the public. Misusing customers' information in the medical industry is one possible threat that can affect customers. Hence, it is advised to use ChatGPT carefully without disclosing sensitive information received from clients to outsiders.
Conclusion
ChatGPT is undeniably an effective tool but it cannot override the outputs produced by the manual test process. It can just be an added benefit for QA engineers to simplify their testing process to produce sound test results at the end of the day. Use it sensibly to see advancements in any business sector and deliver quality products to the end users. The online business is revolving around this brilliant AI-based dynamic tool to produce undesirable results.