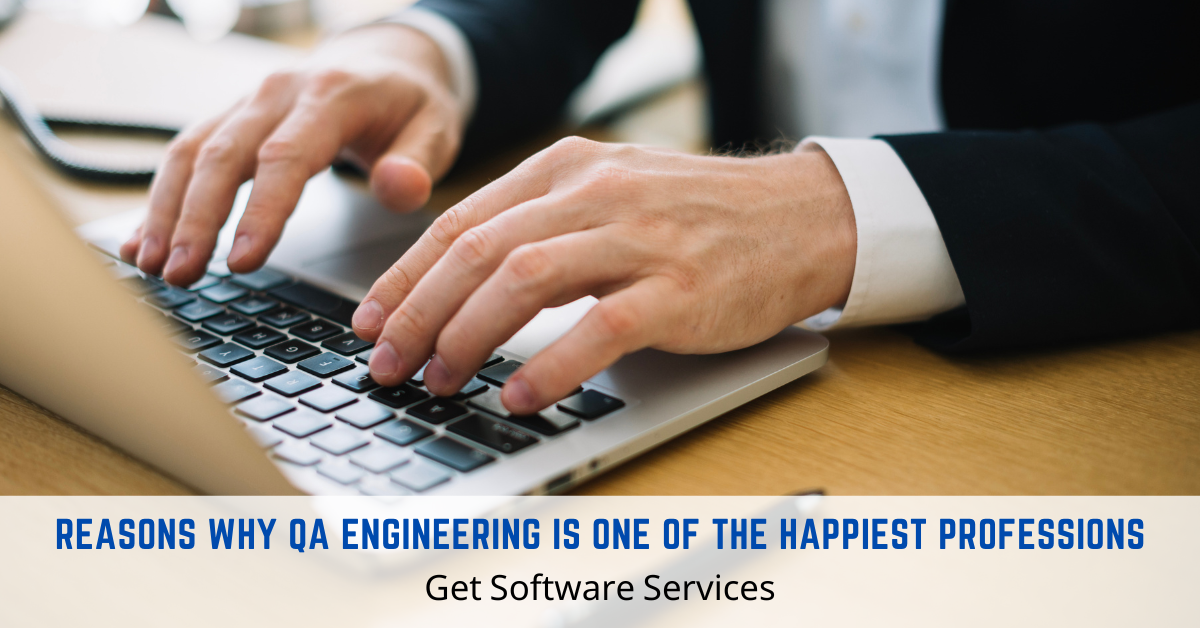 Reasons why QA engineering is one of the happiest professions to work in
Posted by

Categories

Blog

Date

December 24, 2022
One's level of satisfaction at work is highly individual and can fluctuate widely depending on various factors and experiences. That being said, there are several reasons why QA engineering may be considered a happy profession to work in. QA engineering is a field that is often overlooked when it comes to considering a career. However, many people in this field have found it to be one of the happiest professions.
The mission of Get Software Services is to provide staffing, services, and training. Their recruitment team helps businesses find new and seasoned IT, consultants with expertise in cutting-edge technology. They offer businesses efficient IT support at a reasonable price. The North American branch of this institution is widely regarded as a top-tier educational resource.
GSS offers a comprehensive online QA Training course along with QA Certifications. The course includes Software Testing (Quality Assurance Course, QTP Training) related training, including Functional Testing, User Acceptance Testing, HP ALM Quality Center, Jira, and Automation; these topics are all part of our online Quality Assurance Program. The QA Course also covers the basics of databases, SQL queries, Unix, and Windows which are crucial and handy once you start your career as a QA professional.
This article will outline some of the reasons why QA engineering is such a fulfilling career.
Competitive Pay:
Earning potential is a plus in the field of quality assurance engineering. QA engineering is a highly skilled and technical field, and as such, QA engineers are often compensated with competitive salaries. QA engineering is a field that is in high demand, and as a result, the pay is often competitive. This means that QA engineers can earn a good salary, which is essential to job satisfaction.
According to GSS, the average salary for a QA engineer in the United States is around $74,000 annually, and experienced professionals can get up to $100,000 a year. The salary of an Automated QA Testing expert can reach $115,000 a year, and it can occasionally be even more. This is higher than the national average for all professions, making QA engineering a great career choice for those looking to earn a good income.
Training Doesn't Take Much Time:
Unlike other professions that require extensive training and education, QA engineering is relatively easy to learn. QA engineering doesn't require a lengthy training period. For example, Manual QA can be learned in a month, and you'll know so much information that you'll be able to get a job to start your career almost immediately. This means that individuals can enter the profession quickly and start working in their chosen field, which can be satisfying and fulfilling.
The duration of the GSS Online Quality Assurance Course & Advanced HP UFT course is 5 or 10 weeks, depending on whether you choose to go via the Fast Track or Normal route. The class is 1 hour 30 mins, starting at 9 pm (Eastern time).
There Isn't Too Much Work to Do:
Another reason QA engineering is a happy profession is that the workload is not overwhelming. This means that people can work comfortably and still get their work done. QA engineers are responsible for identifying and fixing defects in software, and this work can be done in a short amount of time. QA engineers are responsible for ensuring software and systems quality, but the amount of work can vary depending on the project and the organization. This can provide an excellent work-life balance, as QA engineers may sometimes be under a heavy workload. This means people can enjoy their personal lives and have time for their families and hobbies.
Great Career Prospects:
QA engineering offers excellent career prospects for those willing to work hard and learn new skills. QA engineering is growing, with the demand for skilled QA engineers increasing. QA engineers can move into management positions or specialize in a particular testing area, such as automation or security. Another option is to develop yourself in the business analytics area or programming; you could even try to be a project manager. This can provide opportunities for career advancement and growth, which can be satisfying and rewarding. Many QA engineers can move up the ranks and take on more challenging and rewarding roles as they gain experience.
It Is Affordable:
Another reason why QA engineering is a happy profession to work in is that it is affordable. Finally, QA engineering is a relatively affordable field to enter. This means that people just starting their careers don't have to worry about taking on a lot of debt to get started.
The cost of education and training for QA engineering is generally less expensive than in other technical fields, making it an accessible and affordable option for individuals considering a career change.
Conclusion
In conclusion, while the happiness of individuals in their profession is highly subjective, there are several reasons why QA engineering may be considered a happy profession to work in, including competitive pay, short training times, a good work-life balance, excellent career prospects, and affordability.