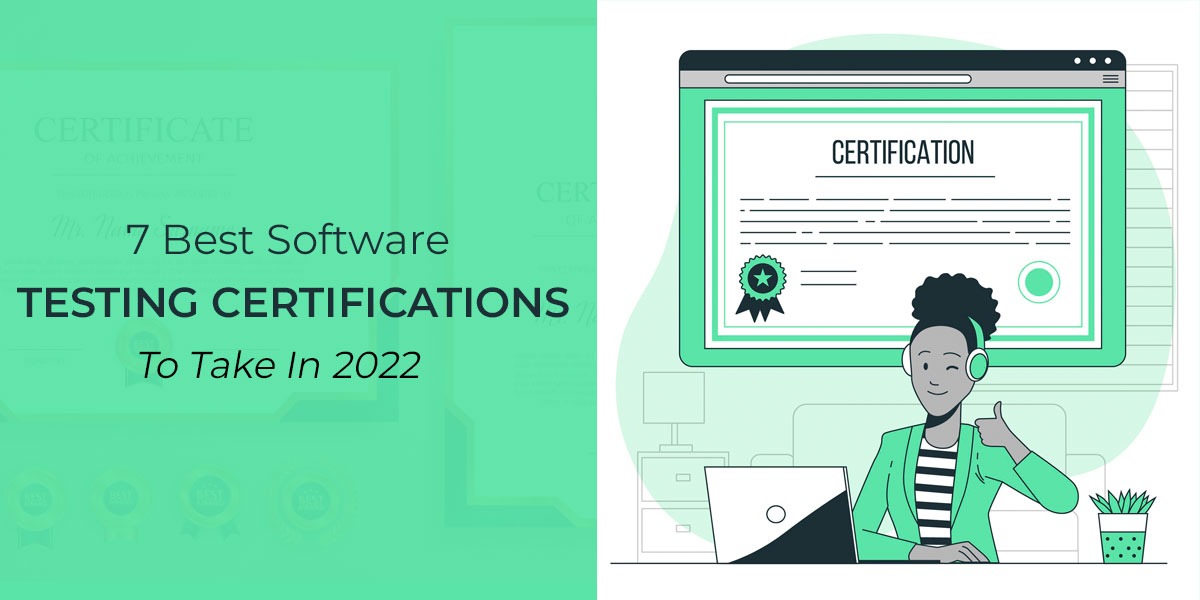 7 Best Software Testing Certifications to Take In 2022
For fresh graduates and professionals desiring to leap forward into the IT domain, choosing software testing is an excellent choice. The reputation of software testing advances with vast popularity as testing is vital for every product or application. Software testing is blossoming and growing with high demand for testing professionals. Certified software testers with proficient knowledge in testing are compulsory for giant companies. Let us run through the seven best software testing certifications to take in 2022.
Software Testing Certifications:
1. CAST (Certified Associate in Software Testing):
Certified associate in software testing or CAST provided by QAI global institute is necessary for any testing professional. CAST owes the fame for being the top testing certification for fresh professionals deciding to get into the testing domain. The aspirant learns about the course's fundamental principles and software testing methods. To enroll for the certification course, the candidate requires a three or four year's degree from a renowned university and three years of work experience in the IT sector.
2. Automation Test Engineer:
The outstanding automation test engineer certification course covers the master curriculum in test automation. The course includes TestNG, Maven, Webdriver, Selenium Grid, Appium, and docker. The certification curriculum also includes core Java and J2EE. Aspirants enjoy learning automation of web apps and containers used in the docket platform. The course transforms the individual into a test automation specialist. The course is a perfect choice for any graduate desiring to explore automation testing.
3. ISTQB Advanced Level Test Automation Engineer:
The globally recognized automation testing certificate is an essential certification on the resume. The latest technique of agile testing is new to software testing and gains better prominence. The ISTQB advanced level test automation engineer is the appropriate choice for entry-level testers who desire to gain hands-on experience in agile testing. The ISTQB course also helps students gain hands-on expertise about QA terminologies.
A proper walk through the course educates you with fundamentals of testing, with SDLC, test techniques, static testing, tools for testing, test management, and exam preparation. The requirements to appear for the exam include sound knowledge and experience in the automation testing domain and owing to an ISTQB foundational level certificate.
4. Mobile App Testing with Appium:
There is tremendous growth in mobile app marketing as the need for mobiles has hiked. Appium is taking the role of the most prominent app for testing android apps. By enrolling in the certification course, the student gains in-depth knowledge of automated mobile testing. Moreover, the candidate knows about Automator, testing, and usage of ADB. The Appium course trains the candidates to automate apps in IOS/android by incorporating Appium.
5. Rest API Automation Testing:
Rest API automated testing is an excellent choice for acquiring extreme knowledge about automated testing from scratch. The course benefits the candidates as they excel in using Rest assured API for developing a well-designed API automation framework. Moreover, the student acquires a thorough knowledge of the Postman tool, API testing, and generating quick receipts. The course covers various tools such as Newman, NPM, etc. The course is appropriate for web service testers, IT professionals, end-users, and architects.
6. Artificial Intelligence (AI) in Software Testing:
We all know that ML and AI are doing wonders in the software domain. With the latest tools and innovations, giant companies look for expert test automation engineers well-versed in testing applications incorporated with ML and AI. The course covers a good understanding of AI and its association with machine learning. Candidates procure excellent knowledge about AI and related data science, deep learning, and machine learning.
7. UFT v15.x Certification:
The UFT v15.x Certification is a quality exam that authorizes and verifies if a professional is well-versed in universal functional testing or UFT v15.v. The course is an idyllic choice as it helps gain deep knowledge of UFT, the purpose of UFT, and the incorporation of UFT for automating API and GUI tests.
The courses are drafted in a manner where candidates learn and incorporate QTP in real-time scenarios. Beginners and expert software professionals learn with live examples, practicals, and test scripts. Though there aren't any particular requirements for the exam, it would be beneficial to score high and hit the jackpot if the candidate possesses expertise and proficiency in QTP or UFT.
Conclusion:
For outshining as a preeminent software tester in the IT province, prior quality training in any of the top mentioned courses is obligatory. In that way, the GSS software testing training institute is a frontrunner in the USA and stands with pride as a one-stop solution for all software testing courses. The software testing trainers have immense experience in the industry and adequate knowledge. We transmute graduates and professionals into skillful testers with live classes, free trial classes, and recorded videos. Hence, teaming up with GSS in the USA is the most outstanding choice for coming out with flying colors as testing engineers.