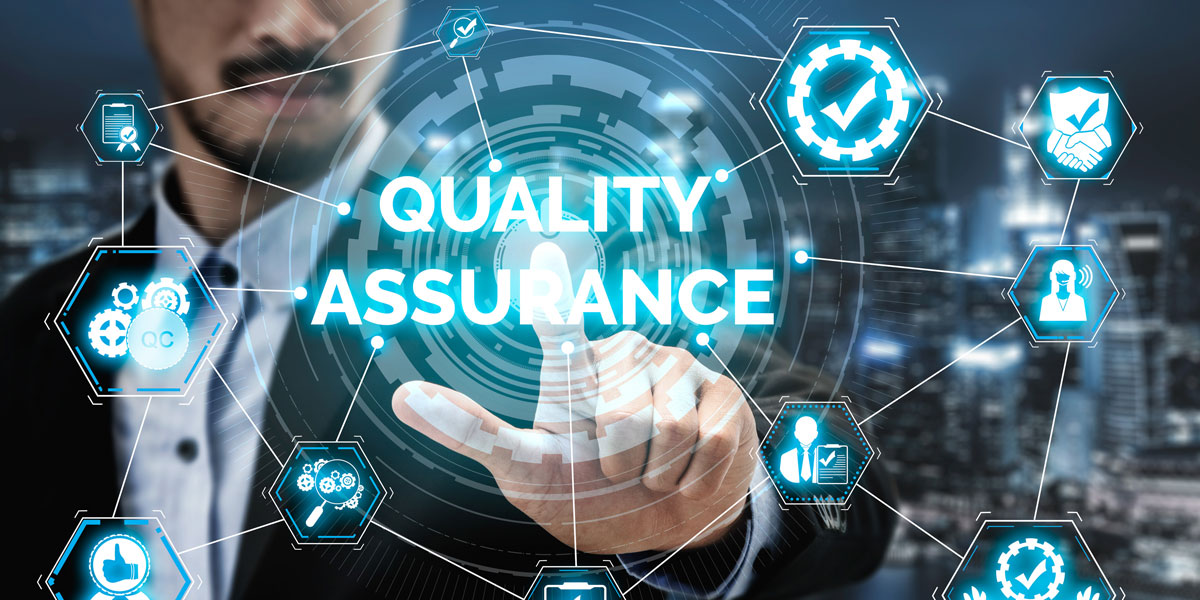 Reasons Why Quality Assurance is Important
Posted by

Categories

QA

Date

September 29, 2022
Quality assurance plays a prominent role in any product or service. Every organization undergoes quality assurance to ensure the service or product is high quality. It is also vital to assure customers of the right product and keep them returning for more services or products. The main intention of Quality assurance is to ensure the high quality of any product or service.
The approach is proactive in that any queries or flaws are detected and rectified before reaching the public. Quality assurance is a crucial tool for customer satisfaction. QA makes happy customers and also hikes the reputation of the company. Let us run through a few pointers that portray the importance of quality assurance.
10 reasons for the significance of quality assurance
1.   Quality assurance saves money and time
 Though technicians and engineers take time to develop services and products, it takes more time to fix the errors that arise. The analysis states that error fixing in the production stage takes 150 times longer than fixing it in the design stage earlier. Few organizations consider quality assurance a cost factor and keep away from it. But, in the long run, quality assurance saves money. Paying charges for prevention is better than paying to fix the bugs.
Cost based on materials is also saved and never wasted. For example, an organization that makes low-quality toys and never involves quality assurance results in loss as the customers return the toys. The business again makes more toys to substitute the low-grade ones leading to additional costs. Hence employing QA in an organization saves money and time.
2. Quality assurance escalates business reputation.
A good reputation is essential for business in this competitive world and also for customer confidence. Loyalty also plays its role as customers stick to organizations they trust when they look for products or services. Hence reputation is mandatory for businesses, stakeholders, and suppliers too. Stakeholders wish to associate with companies that have a good reputation. Henceforth, quality assurance is a significant parameter that helps in business reputation.
3.   Customer's confidence hikes with quality assurance.
Organizations know that consistency and quality are a few aspects that drive the customers towards satisfaction. People are intelligent, too, as they invest in services and products that are worth the price. By employing quality assurance in their business process, the companies portray that they care for customer priorities. While considering the food industries, quality assurance is mandatory for safety features. Customers mandate confidence in eating the food and staying healthy without issues. Henceforth quality assurance offers confidence to customers.
4.   Corporate emergencies are averted with QA.
With copious software companies, the stakes are always high. When corporate software encounters a simple bug, it results in communication breakdowns, system blackouts, and missing data. Hence businesses planning to employ software for a whole firm are better advised to implement quality assurance testing and promise the customers zero errors.
5. Long-term profits are assured with quality assurance.
With quality assurance, businesses have the opportunity to save money by not wasting time and raw materials. Moreover, companies hold a higher rank in the marketplace with exceptional quality. Few businesses also have the chance to raise costs as customers are ready to pay higher for the best quality products. Businesses are hyped by loyal stakeholders, which results in long-term profit and better sales. Hence quality assurance is a winning tool that supports long-term gain in several ways.
6. Quality assurance results in customer satisfaction.
Besides profits, quality assurance enhances customer satisfaction, enhancing the company's reputation. Through mouth marketing, satisfied customers spread the product news to family and friends, leading to an enlarged customer base for the business. The best aspect is that too much investment in marketing isn't required for quality products. Hence quality assurance enhances customer satisfaction and leads to better marketing without investment.
7.   Services and products keep improving with quality assurance.
Customers usually look for few specifications and standards, and quality assurance is about consistently maintaining those standards. As customers use the products and services, they have a few suggestions and ways to improve them. Businesses' primary focus is quality; hence, they employ the suggestions and work on them for better output, leading to an upgraded product. Such ways keep the customer loyal and happy with the business.
8.   Productivity and efficiency are promoted with quality assurance.
 Whenever faulty software is detected, it results in frantic communication and pressurized fixes. Constant bugs are challenging and time-consuming to fix. Henceforth, it is essential to be organized with quality assurance from the start of the project so that the project helps the business to run productively and smoothly.
9.   Quality assurance renders a positive impression on employee morale.
By understanding employee contributions, they undergo less stress and move the extra mile to meet the standards. The positive impression of quality assurance develops a better impression and faith in the employers. It is true to understand that quality assurance isn't just a buzzword but systems that uphold business promises.
10.  The base for business culture is quality assurance.
Quality assurance sets the tone for the entire business by considering it a priority for the company. Every employee plays a role by running for quality and gets infused in all parts of the organization. Any hindrance that inhibits business routing to prove their quality is attended immediately. Working with a work culture for meeting the standards is excellent for the stakeholders, businesses, and employees.
Conclusion
Quality assurance is vital to stay in good connection with the customers. With quality assurance, we make customers happy, which boosts the self-confidence of employees and employers and also enhances the work experience. With so much importance for quality assurance, getting enrolled in quality assurance training for business welfare is significant. Associate with getting software services and register for a professionally certified quality assurance program. The importance of quality assurance is evident from the pointers above. Henceforth update yourself with quality assurance and apply the same in business to enjoy ample benefits.