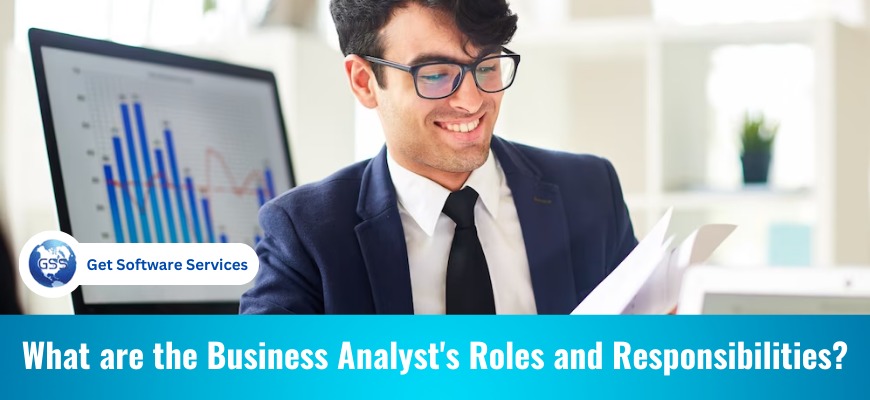 What are the Business Analyst's Roles and Responsibilities?
In the big, fast world of business, you've got to keep up with the changes to stay in the game. Business analysts help businesses decide what changes they need to make to stay strong in the market.
Business Analysts do different things depending on the company. They're like flexible problem-solvers.
Business Analysts actively engage with corporate leaders and customers. They make sure everyone is on the same page, making what the company and customers want without any obstacles.
So, what exactly is a business analyst, and what are the Business Analyst's roles and responsibilities? Let's explore further in it.
Defining the Role
Business analysts (BA) play a crucial role in connecting IT and the business side. They use data analysis to check how things are done, figure out what's needed, and provide suggestions and reports based on data to the big decision-makers and everyone involved in the business.
BA works closely with business leaders and users to learn how making changes based on data can improve different aspects like processes, products, services, and even software and hardware. They not only explain these ideas but also make sure they make sense in terms of what's possible with technology.
Key Roles of a Business Analyst
The key roles of a business analyst are listed below; you can check them out.
1. Problem Solving
Problem Solving is a task for business analysts to handle. They need to spot issues in a business process and come up with smart solutions. Using their analytical skills, they figure out the main problem and the best way to fix it.
2. Organizing Business Requirements
In agile practices, the Business Analyst's job is to organize requirements. This involves a thorough analysis of the current business model and operations. Also, the expert compares it with market trends to pinpoint areas that could be made better.
Evaluating and finding ways to make the current business processes better.
3. Close Communication
Stay in regular contact with senior management, partners, clients, and technicians. This means sharing updates, listening to concerns, and making sure everyone is on correct way.
4. Engaging with Stakeholders and the Development Team
In a specific project, the business analyst has the task of meeting both stakeholders and development teams. They start by sharing their ideas with the stakeholders, and once they get the approval, the next move is to pass on the changes to the development teams. These tasks must flow smoothly to produce good outcomes.
5. Checking
After the discussion of the plans with the relevant teams, the next step is figuring out if the plans are doable. The developers and other teams will talk about whether it's possible, and if there are challenges, the experts might need to adjust the plan.
6. Sharing Ideas and Outcomes in Meetings
Once the plan is set for action, the next step is to share it with the staff and others involved in the change. The team becomes familiar with the changes and may require training to adapt to them. It's the business analyst's job to present the plan and organize necessary training sessions.
7. Putting Plans into Action
Business analysts also play an important role in ensuring successful implementation. They give tasks to teams responsible for infrastructure changes or technical advancements. The whole implementation process is overseen by these experts, and their strategies come under scrutiny.
8. Testing
Analysts also need to stay involved during the testing phase, making sure everything goes as expected. If there's a technical upgrade, the software testing team will produce reports to ensure that the outcome of these changes is favorable.
9. Keeping Things Running Smoothly
Once the organization's processes are running smoothly and producing optimal results, the next step is to maintain that momentum. Analysts observe tasks and operations to ensure no additional changes are needed. If they discover bugs or defects in the system, they report them to the relevant team for a quick fix.
Responsibilities of a Business Analyst
1. Process Assessment
Gather complete information about the current processes employed by the business.
2. Market Research
Conduct thorough market research to understand industry practices, identifying areas where the business may lag behind.
3. Technology Tracking
Stay informed about the latest process developments and IT advancements to remain at the forefront of industry trends.
4. Improvement Presentation
Create presentations that outline necessary enhancements and offer practical strategies for implementation.
5. Staff Training and Adaptation
Organize staff training programs to ensure a seamless adaptation to changes, integrating them into the system effortlessly.
6. Cost-Efficiency Management
Maintain a focus on cost-efficiency and efficient allocation of resources within the business operations.
7. Performance Monitoring
Oversee performance monitoring initiatives to ensure goals are met, and projects are managed effectively.
Tools Utilized by Business Analyst
Smart organizations that want to keep up with the times use business analysis. They bring in experts to help with this. These experts use different tools and techniques to look at the company's data and understand how the market is changing. Below are some tools utilized by the business analyst-
1. Data Analysis Tools
Business Analysts use tools like Microsoft Excel, Tableau, PowerPoint, and many more to analyze and visualize data, gaining insights that brief decision-making.
2. Wrike
Wrike, a well-liked tool for project management among Business Analysts, is a work management app. It comes with handy features such as live editing, timeline diagramming, workload view, file, and budget management.
3. Requirement Management Tools
Tools such as Jira, Trello, or Microsoft Azure DevOps help Business Analysts manage and track project requirements efficiently.
4. Oracle NetSuite
Oracle NetSuite is a top choice for enterprise resource planning, known for its modularity and user-friendly interface. Other alternatives in this category include Acumatica, SAP, and Sage.
These are just a few examples of tools utilized by business analysts. There are more tools available as well.
Successful Business Analyst Skills and Qualities
A successful Business Analyst is like a problem-solving communicator with a knack for understanding both business and technology. Here are the key things that make them good at what they do –
1. Remarkable Communication
Expert business analysts understand that effective communication is a must. Whether it's talking with managers, coordinating with employees over the phone or email, or having face-to-face discussions, they know that any mistakes in these interactions create extra work for everyone.
2. Thinking and Problem Solving
Finding solutions isn't always easy. Analysts understand that they have to go through many steps and different situations before discovering the right one. It's because businesses are complex.
As for their analytical thinking, analysts with keen critical thinking skills don't settle for surface-level understanding; they delve into data, study assumptions, and connect the dots.
3. High Level of Accuracy
When analysts aim for a high level of accuracy, they're building a strong foundation. It means the information they use is dependable and free from mistakes, creating insights that everyone can trust. These accurate insights are like a guide for making smart decisions.
4. Efficient organizational skills
Efficient organizational skills empower analysts to prioritize tasks, allocate time, and meet deadlines with ease. This not only ensures a smooth workflow but also enhances overall productivity.
5. Knowledge
In some kinds of analysis, pictures or diagrams are used to show information—like drawing a map. This is common when managing processes in a business to make it easy to understand. Sometimes, it's needed for the job, but it's also good to learn as some people like pictures more than just listening.
Conclusion
Business Analysts are like the bridge between tech and business. They look at how things work, give smart suggestions based on data, and make sure the company runs smoothly. They talk to leaders, understand what users need, and make sure technology fits just right.